Production Sound
Tommy Schaeffer
Post-Production Editing
Tommy Schaeffer
The Power of Promise | Audiobook
Trust lies at the heart of every good customer experience. But how do you create trust and deliver on the promise of your brand?
Whether you are a business owner or an employee deeply invested in delivering on your organization's brand promise, the most powerful way to fulfill that promise begins with becoming aligned with who you really are. The Power of Promise teaches you how to understand, declare, map, train, and deliver exactly what you've promised your customers, which enhance your bottom line, meet and exceed the expectations of your customers, and improve the work experience for you and your staff.
In this informative, practical, inspirational book, Ken Mosesian tells you not only how to identify the promise of your brand but also how to deliver it to your customers. Mosesian combines more than 20 years of experience in the field of business consulting with real-life examples to provide actionable steps that will improve leadership, communication and conflict resolution skills, and help you to effectively evaluate and improve your customers' experiences, converting them into advocates.
Humans are experiential beings and collectors of experiences. You're not just selling a computer, an accounting service, or a sandwich. You're selling the totality of the experience, the emotion that goes with it, and the promise underlying it all.
The Power of Promise is the perfect book for anyone who wants to ensure their brand evokes the kind of emotion in their customers that delights them and inspires them to return again and again.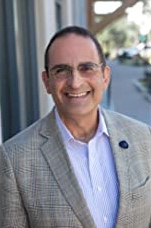 Author & Narrator | Ken Mosesian
Ken Mosesian's life has been punctuated with extraordinary experiences. Living and working in Switzerland after his junior year in high school and then exploring Europe after the program ended, opened Ken's eyes to a world far beyond the small farming community in which he grew up.
In an "anything but traditional" career path, Ken earned his private pilot's license, studied piano and pipe organ, worked as a Mental Health Counselor and as an Emergency Medical Technician, and served as an Executive Director of a national non-profit organization. His consulting work and public speaking focuses on brand and customer experience, and leadership and communication. Ken loves traveling the world with his husband and spending time at home with their Boxer.
Every one of these experiences contributed richly to who Ken is today. His first book – The Power of Promise: How to Win and Keep Customers by Telling the Truth About Your Brand – is focused on something that Ken sees as critical not only to our personal and professional lives, but to our future well-being as a society: your word is your bond. No exceptions.
Continue reading this bio from Amazon.com here.
In the Studio
Recording Chapter By Chapter for The Power of Promise Audiobook